According to United States law, it is illegal to sell or market e-cigs or other vaping products to anyone under the age of 21. That's a real issue for TikTok, where it's easy to find content featuring influencers using vapes and e-cigs as well as promoting those products for sale. Worse, many of these ads use music and other elements that are clearly intended to appeal to teens.
For example, it's easy to find offers for flavored cartridges via disposable vapes. Some sellers openly promote discreet packaging. This helps teens sneak their purchases past their concerned parents, including placing products in boxes that appear to contain other items, putting products under deep layers of packaging, even placing vapes inside cosmetics bags or shoes.
In 2020, the FDA began to crack down on companies (JUUL, in particular) that were marketing to underage buyers or selling flavored vapes. However, this action increased the marketing appeal of disposable vapes and has led to influencers and brands promoting those items on TikTok. Worst of all, this content isn't always taken down, even after it's been reported.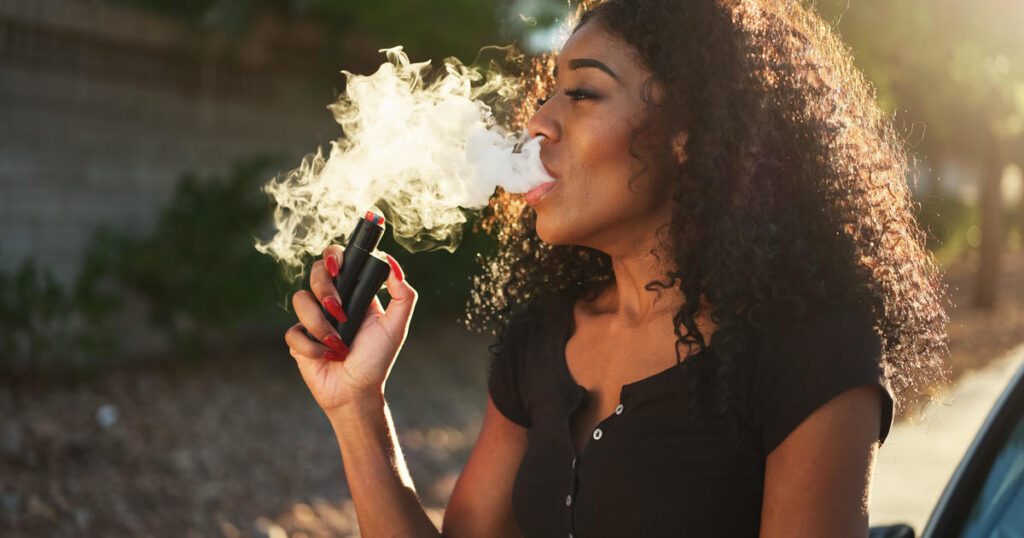 How Vape Sellers Engage Teens
Vape sellers use TikTok to communicate with underage consumers through videos and comments sections. In many cases, they direct viewers to websites that are likely operating illegally. Oftentimes, they showcase inventory in their TikTok videos, such as Puff Bar disposable vapes in fruity flavors.
This means these sellers have found a way to use TikTok as a free advertising platform to reach an audience they are legally prohibited from engaging. It's even more problematic as the FDA action hasn't done much (if anything) to decrease teenager interest in vaping. JUUL has remained popular among high school students, and disposable brands are becoming even more popular.
Not a Small Problem
This is no small problem. Teenagers account for nearly a third of TikTok users in the United States. Further, the app is rated for ages 12 and up in the United States. A good portion of young users may actually be under 14 years old. That's millions of active users who are not legally able to purchase vapes and are legally "protected" from exposure to content marketing those materials.
Additionally, videos that have been tagged with keywords associated with vape and electronic cigarette companies have gotten many hundreds of millions of views. A quick search of vaping-related hashtags will show millions of views. Sellers don't have to make TikTok videos just go viral when they know that teenagers are actively searching for sources to purchase vapes using these keywords.
---
TikTok's Response to the Vaping Problem
When a young person creates an account on TikTok, the platform automatically sets their privacy settings to reflect their age. Additionally, the platform has also banned controversial hashtags in the past. This includes hashtags that may have been inappropriate for some audiences but didn't represent anything illegal. For example, they have blocked some hashtags relating to the recent election controversy and hashtags relating to QAnon conspiracy theory.
Despite the platform's ability to block content, and the laws against marketing to minors, it is easy to find vaping-related content. Even more disturbing, the account names used to hawk vapes are often blatantly associated with vape terminology and brands. Some have even tagged their videos with #kids in an effort to make them just go viral among young people.
Encouraging Unsafe and Unhealthy Behaviors in Teens
Some people may argue that exposing teens to vape content on TikTok is really no more controversial than what they might see on television or in other web content. However, teens aren't just seeing products. They are being subjected to marketing tactics encouraging them to engage in unsafe, unhealthy, and illegal behaviors.
For example, some videos depict vapes hidden in socks, underneath items, and in other obscuring ways so that parents don't find them. Additionally, videos often link to websites and other channels where there isn't always any form of age verification. These vape sellers often encourage buyers to use digital payments like CashApp or Venmo instead of using more traceable forms of payment like credit cards.
To be clear, none of this is legal. It is against the law to market these products to people under the age of 21. Additionally, it is illegal to complete a sales transaction for any nicotine product without proper age verification. The standard age verification pop-up does not meet the legal standard for age verification.
Sadly, the FDA may have unintentionally contributed to the problem. Rather than giving clear regulations, they produced rather vague guidelines for the social media platform. Additionally, they are the only agency that is really able to enforce these rules, and they only become involved sporadically.
Anti Tobacco Activists and TikTok
Many advocacy groups work with social media platforms to prevent influencers and brands from promoting tobacco-related content to children and underaged adolescents. For example, both Facebook and Instagram have rules in place that prevent influencer marketing content that relates to nicotine products. Snapchat and Twitter have similar restrictions. They have even updated their algorithms accordingly. Additionally, many influencer marketing platforms, including JustGoViral, are committed to preventing this kind of marketing.
This has worked well on those platforms. Unfortunately, the same efforts have not yet reached TikTok. This is due to the fact that this social media platform is so new.
Still, even without intervention from third parties, it is clear that TikTok has been made aware of the problem. Additionally, it shouldn't take this intervention for the fastest-growing social media app to do the right thing. Even when this content is reported, TikTok may take no action or simply remove the account bio information that links to prohibited websites. This is done even though TikTok terms of use explicitly ban tobacco ads and promotion.
Why Brands Should Be Concerned
Of course, every adult citizen is likely concerned about this activity for ethical reasons. However, if you don't sell tobacco-related products, you may wonder why you should be concerned about this with regard to your online marketing efforts. After all, you aren't a party to any illegal or immoral behavior, and neither is your company.
The problem is that when it comes to social media marketing, reputation is everything. Your ability to attract audiences directly or via an influencer largely hinges on trust and credibility.
Imagine developing a relationship with an influencer to promote your products. That same influencer also works with an online store that sells disposable vapes in the kinds of flavors that appeal to kids. They share videos on TikTok promoting that store and encouraging teens to purchase those products illegally.
Before long, you may find yourself fielding questions about why you are associated with an influencer who engages in that behavior. Worse, if you haven't been very careful about setting conditions with that influencer, you may have no recourse.
---
What Can Brands Do About Illegal Vape Marketing and Sales?
As a brand, the first step to take is to ensure that your company takes a strong stance against illegal or unethical behavior. If your social responsibility statement doesn't include anything about your commitment to the safety, health, and privacy of minors, it probably should. You should also integrate corporate social responsibility into your online marketing strategy.
Next, be very careful about the influencers and creators you work with. Use a platform like JustGoViral to ensure that you only connect with people who have been thoroughly vetted. When you do enter into an influencer marketing or affiliate agreement, think about the parameters you want in place. For example, you may wish to work only with influencers who don't promote nicotine or alcohol products in any way on any platform. This might include agreeing not to post any content using vapes or promoting links to sites that sell these products. You can't be too cautious about your reputation on social media.
These are details you must work out before you finalize any contracts. Whatever conditions you set, make sure they are clear and that they have "teeth." This means you have the right to withhold payment or end the agreement if it is violated.
Finally, brands should pay attention to how social media platforms handle problems like this. While there is no denying that TikTok is a powerful social media app with an impressive amount of great content, their handling of this issue is troublesome. It's also potentially risky behavior for the powers that be at TikTok to allow this illegal activity to occur without taking strong action.
Ultimately, brands can even decide to market on other platforms until TikTok solves its vaping problem. This is one way to avoid being associated with questionable content or behaviors.
If you were unaware of this issue, you aren't alone. This is why it's important to stay on top of current issues that impact influencer marketing. Brands that stay on top of social media news are more likely to get a heads up on pressing issues like this一and in time to respond appropriately.